I went to Jeonju, South Korea last May 2011 with my brother and my cousin, who was invited to attend the Jeonju International Film Festival. My cousin was provided an all expense paid trip, so my brother and I got to bunk with him for free. We were also given free stuff throughout our stay. But the best thing about that trip abroad was our food trips. I've always loved Korean food, even while in Manila. That's why I'm sharing you 3 of my favorite cuisines in Jeonju.
SAMGYEOPSAL
The locals in Jeonju were very pretty courteous. But some of them would still find the English language difficult to understand. So this gave us a hard time when looking for potential authentic Korean restaurants to dine in, we really just wanted to call on Foodpanda for delivery. But on our first night there, we pushed ourselves to take a shot into the abyss. There was a nice place along the Cinema Street that had some 'grilling' going on. So we tried it there, armed with just our hunger and eagerness to learn what we can from our surrounding.
As soon as we got seated, a grilling unit was immediately placed and heated on top of our table. After that, several bowls of side dishes were served, which contained different kinds of Kimchi, garlic cloves, onion slices, mushrooms, lettuce, radish and some weird looking raisins. A waiter then followed suit asking for our order. And since we were oblivious as to what was written on their menu, we just ordered the first pork-sounding dish there was. After a few minutes, a bowl of different yet fresh pork slices were set on our table. That's when we started checking out the customers around us. We just copied what they were doing, which actually helped us get through dinner. Believe me, it was a funny yet tasteful experience!
HOW TO EAT SAMGYEOPSAL: Grill the pork and all the other organics until everything's cooked. After that, get a lettuce leaf to use as a wrap, and then fill it with your pork pieces — along with the side dishes that were provided. Take a big bite afterwards!
DAK GALBI
My niece teaches English in Jeonju, so she was able to take us to dinner for two nights. So ordering was no longer a difficulty for us since she knew how to speak Korean. So when we meet up with her, she immediately took us to College Street, where the restaurant Gosoo Dakgalbi was located. She ordered a big stir-fry pan of Dak Galbi for us to eat that evening. Now, the sumptuous dish contained pieces of duck, sliced cabbage, penne pasta, scallions, onions, cheese, rice cake, chili pepper paste, and a few organic sides. It also had that Samgyeopsal look to it. But still a different taste to it.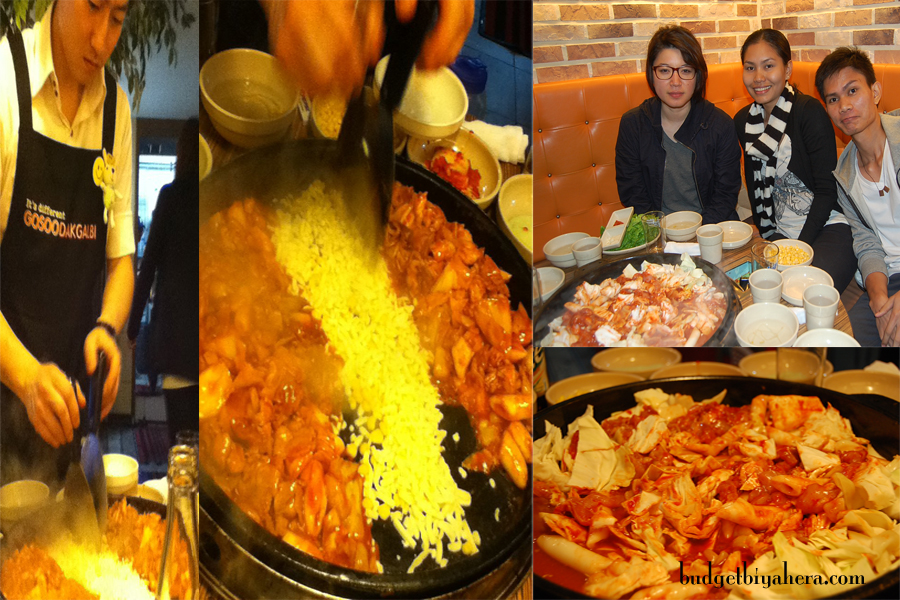 HOW TO ENJOY DAK GALBI: Try eating right off the pan and then relish the taste of that spicy specialty!
GAMJATANG
My niece took us to a small Korean restaurant. But she ordered something different on our last night in Jeonju. The spicy soup was called Gamjatang (also known as pork bone soup or spicy pork stew with potatoes). The deep red-colored soup contained pieces of meat, green onion, hot peppers, ground sesame seeds, and other vegetables. It literally made me sweat despite the cold temperature inside the restaurant.
HOW TO ENJOY GAMJATANG: This spicy food is best paired with an ice cold drink, preferably a chilled bottle of Coke.
How about you? Do you have a certain Korean cuisine favorite?