It wouldn't be hard to give the definition of surfing if you were to consider the desire to be out in the water, the freedom to conquer a great force of nature that can push you where you have never been before. It's a whole new world, it's like a drug that you start taking. Addictive. But surfing without great waves is like hot beer (totally not cool), therefore we decided to see what are some of the best places for surfers. Here are our 10 picks.
1. Gold Coast, Australia
There's no doubt that Australia has some of the best beaches and best waves, which are perfect ingredients for a surfer. The sixth most populous city in the country, Gold Coast City is located in the southeast corner of Queensland and is renowned for its sunny subtropical climate, popular surfing beaches and the canal systems. Though expensive, it's a great tourist attraction.
It's the 70km of beaches and four epic point breaks (The Spit, Main Beach, Narrowneck, Palm Beach and Mermaid beach) that made people call it, the surfers' paradise. Other great places to check out are Snapper Rocks Superbank, Burleigh Heads, Kirra and South Stradbroke Island (Straddie).
2. Mentawai Islands, Indonesia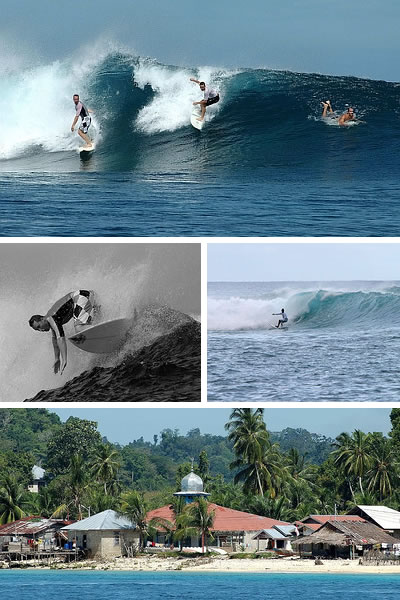 The Mentawai Islands are a wave-rich chain of about seventy islands and islets off the western coast of Sumatra in Indonesia, one of the most consistent surf destinations in the world. There are four main islands (Siberut, Sipora, North Pagi, and South Pagi) that block most swells from reaching the mainland on Sumatra, which became noted destinations for wave-hunters that are looking for some of the most perfect surfing experiences in the world. Access is by sea only with ferries and charter boats.
Go there from March to October, but keep in mind that the biggest swells are likely to occur in June – September. Waves are facing almost every direction mainly because the winds are variable, so it's easy to find a break with offshore conditions. Top Mentawai waves include Bankvaults, Lance's Left and Lance's Right, Macaronis, and for the less experienced there is Gilligan's. Most of the surfers spend at least $125 a day so you should expect to pay for such an experience.
3. Jeffreys Bay, South Africa
In the Eastern Cape province of South Africa, about an hour's drive southwest of Port Elizabeth, Jeffreys Bay is one of the most famous surfing destinations in the world. Especially great during the winter months of June, July, and August, surfers come here for a great ride on beaches like Super Tubes, Boneyards, Kitchen Windows, Magna Tubes, Point and Albatross.
Apart from being a popular surfing destination, Jeffreys Bay is also renowned for its blue flag beaches and for hosting the annual Billabong Pro WCT surfing event at Supertubes during July.
4. Fuerteventura, Spain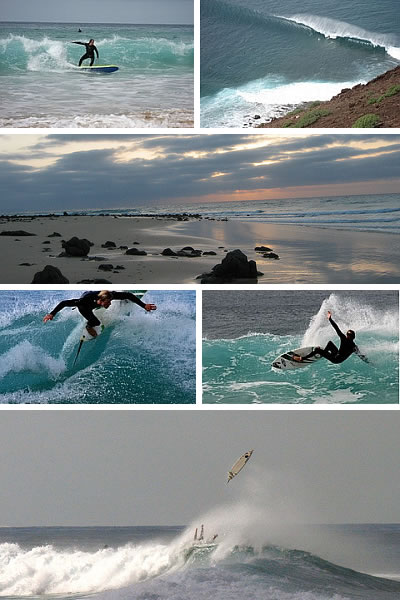 Part of the Canary Islands, and the second biggest of them all and located in the Atlantic Ocean off the coast of Africa, Fuerteventura is also known as the Mecca of surfers. Aligned with Florida and Mexico on the same latitude, the temperatures here rarely fall below 18 °C or rise above 24 °C. Surfers visiting the island should be extremely happy with the weather conditions, no matter what time of the year they do it. October to March should be top season for them, just come enjoy Mexico Cabo Villas and waves!
The most popular waves are Rocky Point, Harbour Wall, Shooting Gallery, Generosa, Suicides, Mejillonas, Majanicho, El Hierro, The Bubble, German Rights, Cotillo and Esquinzo.
5. El Salvador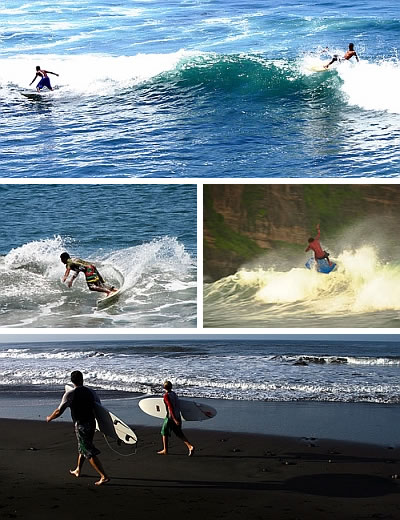 After being baptized by Spanish conquistadors as "Provincia De Nuestro Señor Jesucristo El Salvador Del Mundo", it's now known as the Republic of El Salvador. Bordering the Pacific Ocean between Guatemala and Honduras, the country is a natural tourist attraction that is gaining more and more popularity with surfers visiting places like El Zonte, Sunzal, and La Libertad. Why? Because they are not very crowded.
The main swell season, is from March to October and coincides with the rainy season. Experienced surfers should expect the south swells during this time, to get up to 10ft. Don't forget to take your booties for getting in and out at the rocky points and try to discover more and more new spots in the area.
6. Costa Rica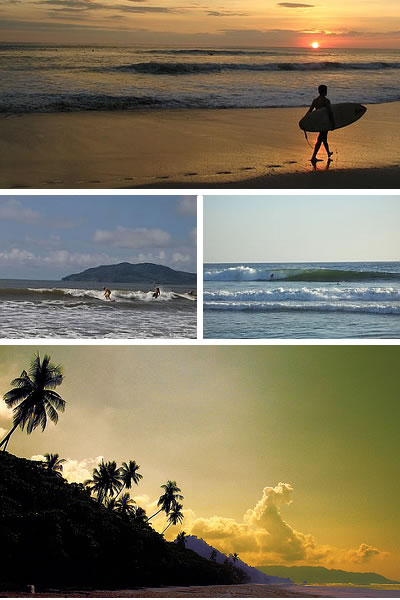 In Central America, bordered by Nicaragua to the north, Panama to the east-southeast, the Pacific Ocean to the west and south, and the Caribbean Sea to the east, the Republic of Costa Rica is a legendary surfing location. Mostly 'hardcore' surfers come here mainly because of the consistent waves year round and also to the many great surf spots. Both coastlines produces great waves with the major swell season starting from April and ending in October.
This could be the trip of your life so better prepare yourself for the "country's best waves" in Playa Naranjo and the quality right river mouth point break at Potrero Grande (Ollies Point). Too bad the road systems are not very good.
7. California, North America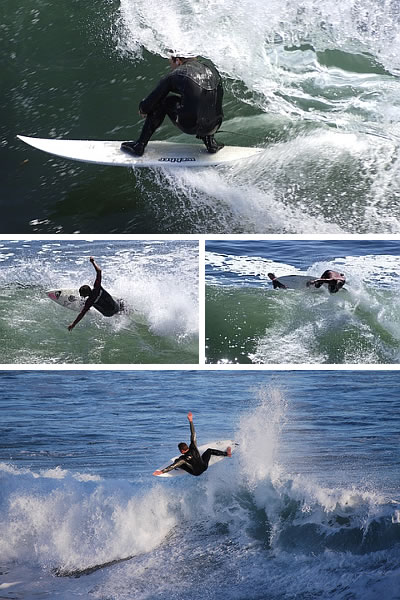 If for some reason you want to surf in North America, the best choice is California. The happiest with what California has to offer, are the big wave hunters that go to places like the mountains of Maverick's during the huge winter swells. If you just want to enjoy a good wave but you're not into big waves then why not choose a spot between Santa Cruz and Half Moon Bay, it's great. Some other great places include Steamer Lane, Malibu and Rincon so don't miss them.
Keep in mind that the water is cold almost all year round (only hits 24 °C in July and August) and that the surfing spots are most likely going to be crowded with very good surfers.
8. Bali, Indonesia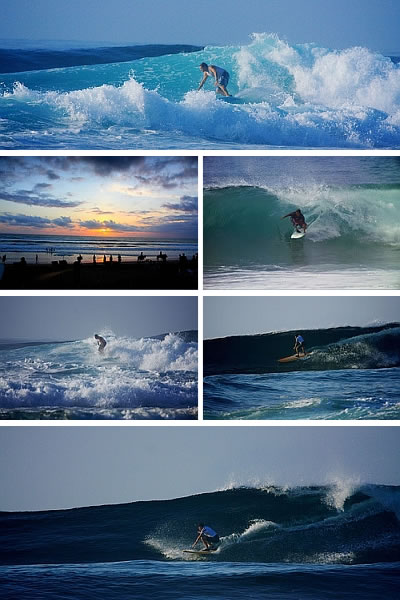 There aren't many people who haven't heard of Bali by now. In the western most of the Lesser Sunda Islands, lying between Java to the west and Lombok to the east, the Island of Bali is "an enchanted land of aesthetes at peace with themselves and nature" (Colin McPhee). It's Indonesia's largest tourist destination.
However, little knew that it's a great place for surfers, too. A few of the best spots include the area around Bukit Peninsular – directly south from Dempasar, Kuta (Beach), Dreamland, Uluwatu or Padang Padang. With the swells coming from the Southern Ocean, Bali sees consistent waves up to 12 ft high, from April to November. Main drawback is that it's pretty crowded and you may get hassled (a lot).
9. Santa Catarina, Brazil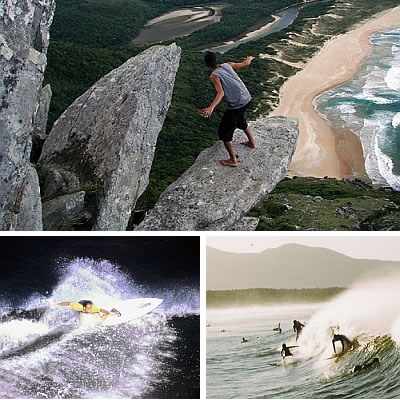 In southern Brazil, the island of Santa Catarina is colloquially referred to as 'Florianopolis' (the capital) and is one of the country's most visited places because it has a great number of beach resorts. The island is generally considered to be blessed with the best Brazil has to offer to a surfer, including a great consistency and a huge variety of waves, such as Santinho and Mocambique.
Joaquina Beach is one of the best places for your surfing vacation, that won fame as of the 1970s, when surfers from around the world discovered its waves. Other world class surf spots in Floripa (from Florianopolis) are Praia Mole, Campeche and Lagoinha do Leste.
10. Samoa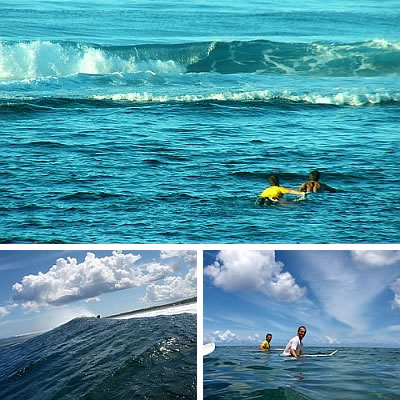 The Independent State of Samoa is part of the Samoan Islands archipelago in the South Pacific Ocean just north east of Fiji. It's one of the best surfing destinations offering a rich Polynesian culture, warm waters, a tropical island paradise, and most importantly consistent quality waves. One of the best things, is that the South Pacific ensures that there is plenty of swell from pretty much every direction, all year round. The best time to roll is from April to October, when waves are created by the big lows down near Antarctica.
Some of the renowned surf spots in Samoa, are the A'ufaga Village, Salani, Boulders, Coconuts (compared to Hollow Tree's in the Mentawai Islands), Salamumu and Tiavea, Laulii, Falea'puna, Fagaloa Bay or Solosolo.
We're pretty sure these are great places to be if you're a wave hunter, so please stop by and let us know how your trip was, "Great" may not be enough.